---
This museum is not recommended for pre-school children.
It is not a petting zoo. It is a museum.
Children are welcome, for sure, but they are not the target audience.
The Bunny Museum tells the history of bunnies in advertising,
art, entertainment, fashion, film, and everyday vernacular.
The Chamber of Hop Horrors is for 13-year-olds and up.
(We believe innocence is to be protected.)
The Chamber of Hop Horrors displays the abuse of bunnies throughout time
such as experimenting on bunnies,
"lucky rabbit foot key chains",
and bunnies in horror films, etc.

We
The Bunny Museum has to date
35,514
bunny objects
The GOOBA contest has ended. No one guessed correctly. Some were close...
Thanks to all that participated. We had fun reading the entries!
The new exhibit at The Bunny Museum is called GOOBA.
Stands for "Gallery of Original Bunny Art".
In the Gallery of Original Bunny Art are one-of-a-kind pieces designed by artists and labelled. Some items, however, are just FAB!— Found Art Bunny. These art pieces of or about bunnies were bought in second-hand stores, rummage sales, or estate sales. Their provenance is unknown. But, they are FAB!
Found-Art is normally named for a piece made from "found" objects that aren't necessarily artistic in any way, but rearranged as "art". There is some Found-Art in this gallery, too.
Enter GOOBA through Candace's art room.Enter
Opening soon.


|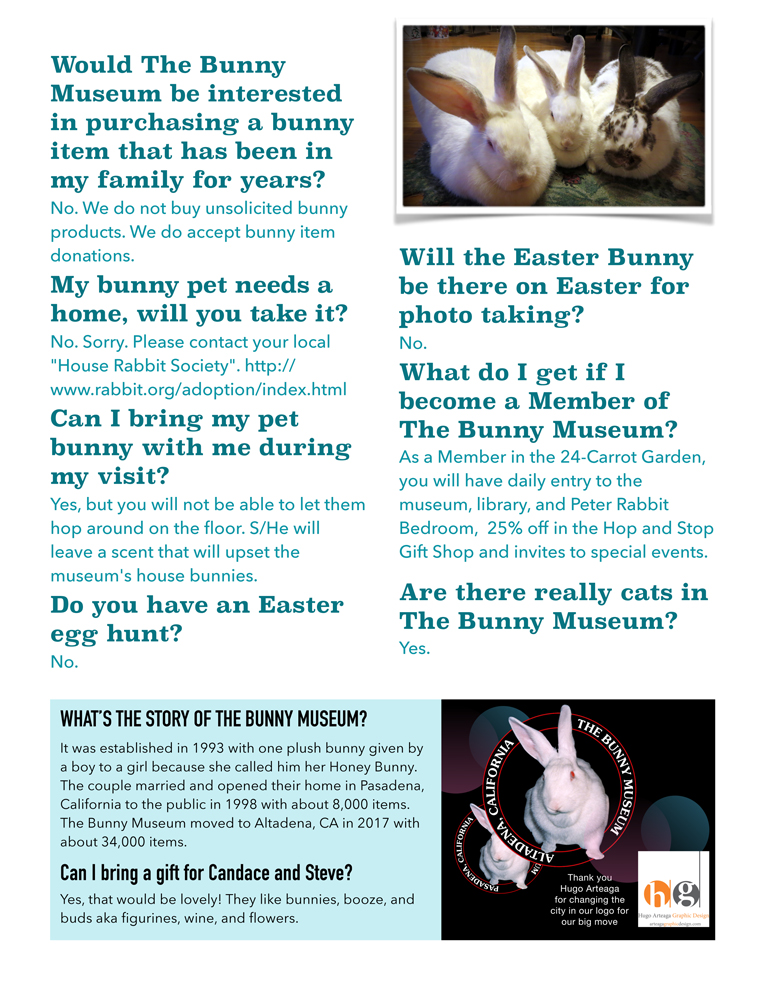 The last ticketed entry time Mon-Sat is 5:30 pm
Museum closes at 6:00 pm
The last ticketed entry time Sun is 4:30 pm
Museum closes at 5:00 pm